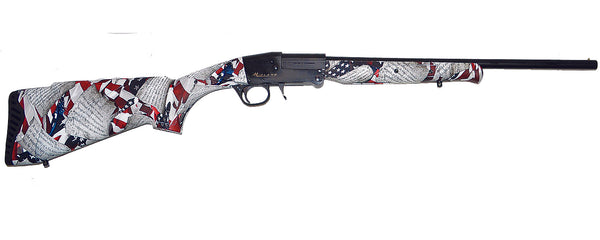 For those who are passionate about the US Constitution, or just love a gorgeous stock. NEW from Midland Arms. Available in 12GA 18.5" and 26" bbl, 20GA 26" bbl and 410 18.5" bbl lengths. Have your dealer contact Zanders to order!
Other features of the Midland Backpack™ line of firearms include:
Cocking indicator that identifies the gun's status by both sight and touch.
Removable buttpad to store survival kit (sold separately) and to add length if needed.
All-steel blued studs pre-installed for QD sling swivels.
Ambidextrous cheek piece for right or left hand shooters.
Rugged, weatherproof synthetic stock checkered at the wrist and forend.
Positive trigger-block safety.
Barrel inter-changeability for different gauges and calibers. (Centerfire & Rimfire coming soon!).
Folds in half for ease of storage or carrying in a backpack or duffle bag
The Midland Backpack™ is a gun that you can grow with in the shooting sports. From shooting clay targets to bird hunting, to plinking cans to hunting deer, the interchangeability of barrels, buttstocks and sights will keep you shooting as you grow, no matter your age or shooting activity.